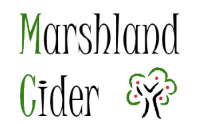 We are a small craft cider maker, using apples and pears from our own newly restored ancient orchard. The cider is traditionally made then undergoes a long maturation period to develop a unique character.
Please see the page 'Cider Range' to see what products Marshland Cider has available and the page 'Buy Cider' to find out how to buy them.
If you have a licensed premises and would like to stock our cider please get in touch via email using marshlandcider@gmail.com or contact Oliver Mann on 07990 949 230. 
Information is also available on the Marshland Cider Facebook page.
Marshland Cider is based in the village of Marshland St. James, near Wisbech on the Norfolk Cambridgeshire border.
26/8/ 19 Only tried the Bramley Bone Dry and Jumping Bunny so far and thought they were both terrific. The Bone Dry won't suit everyone, due to the real sharpness of the Bramley flavour on top if its natural dryness, but it is my kind of drink. The Jumping Bunny is a lovely, well-balanced cider. My partner, who hates the stuff, said she could drink it all day. Not tried Apple and Pear yet, as the shop had sold out, but if the quality of the two I've tried is anything to go by, it could be a ripper!


29/8/19 Have tried the Apple and Pear and thought it was a spot-on dry cider and my personal favourite of the three (although I would happily buy any of them, depending on what mood my taste buds were in).  You've managed to perfectly tone down the Bramley acidity in the Bone Dry, without losing any of the dry cider character. If I was doing that sad beer festival thing of marking them all, I'd give Bone Dry 8, Apple and Pear 9 and Jumping Bunny 10 (purely because it is just about the best medium cider I've ever tasted).
26/4/21 Bought a new season Orchard Duet at the Farmers Market yesterday - what a lovely cider! Sweet and easy drinking - bring on the summer!